Join the Fight!
June 04, 2011 :: Posted by - Sweet Flamingo Cake Co. :: Category -
News
It is about that time again, only a 

few more days

to go!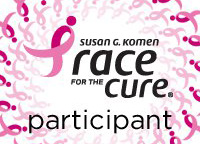 Saturday June 11, 2011 we will be participating in this year's Susan G. Komen Race For the Cure in Raleigh. If you are interested in participating or helping out, please click here for more information.
We thank you for your continued support & look forward to seeing you there!