January 01, 2011 :: Posted by - Sweet Flamingo Cake Co. :: Category -
Recipes to Share
The holidays are over, you made it! Come on, you know you need a little pick-me-up! Why not start out this new year with a resolution to try something a little different? Enjoy a treat that is both sweet and rejuvenating!  These muffins are perfect for dessert or even breakfast!
Happy New Year!
Lavender Muffins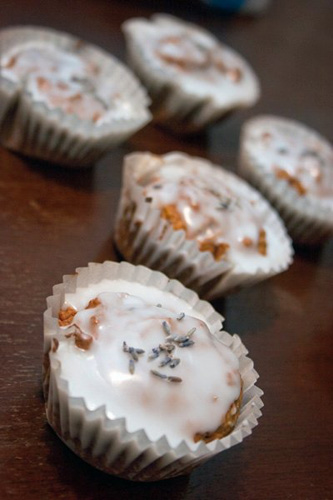 Muffins
1 Large Baking Apple, peeled, cored, sliced thin
3T. Water
1c. All-purpose Flour
1t. Baking Powder
1t. Baking Soda
Pinch of Salt
4T. Butter
4T. Superfine Sugar
1 Large Egg (beaten)
1/2 t. Vanilla Bean Paste (Extract can be substituted)
1T. Dried Lavender Flowers (make sure you get your flowers from a food safe source)
12 Standard baking cups/ Standard muffin pan
Directions:
1. Preheat oven to 325° F
2. Place sliced apple and water in pan, bring to boil. Reduce heat and cover pan, let simmer for 15-20 minutes stirring occasionally, until water has absorbed. Remove from heat , once cool, move to food processor and process till smooth
3. In separate large bowl- cream together butter and sugar
4. Mix egg, vanilla, apple, and lavender. Add this mixture gently to the flour mixture.
5. Do not over stir, it's ok if you find it a little lumpy
6. Divide batter evenly into the muffin cups (should be about 2/3 full)
7. Bake for 20 minutes or till risen and lightly golden
Frosting
1c. (Scant) Powdered Sugar
1T. Dried Lavender Flowers
1T. Light Corn Syrup
1-2T. Milk
Directions:
1. The day before you make the muffins prep the frosting- mix sugar with the lavender flowers, cover with plastic wrap and let rest for at least 24 hours.
2. Finish prepping the frosting- sift sugar/lavender mixture – removing all flowers- discard flowers.
3. Mix in glucose and enough milk till till frosting is easy to spread.
4. Cover with plastic wrap till ready to use.
5. Once the muffins are cooled, drizzle the frosting over each muffin evenly
Enjoy!