March 16, 2011 :: Posted by - Sweet Flamingo Cake Co. :: Category -
Recipes to Share
Spring is almost here! Let's kick off the warmer weather with these delightful cookies, citrus mixed with rich yummy chocolate!
Orange Flower Cookies Dipped in Chocolate Ganache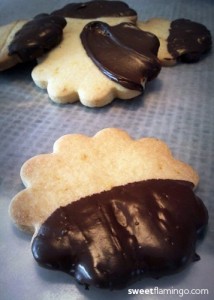 Cookies



1 c. Softened Butter
3/4 c. Superfine Sugar (Caster Sugar)
Zest of 1 Orange
1 Egg Yolk (Beaten)
2t. Orange Juice (Simply Orange® Recommended)
2 1/2 c. All-Purpose Flour
1t. Ground Ginger
Pinch of Sea Salt
Plastic Wrap
Baking Sheet Pan
Parchment Paper
Wax Paper
Rolling Pin
Flower-shaped Cookie cutter
1. In a large bowl combine butter, sugar & orange zest – Mix thoroughly
2. Beat in egg yolk & orange juice
3. Sift flour, ginger, & salt – Mix all ingredients to combine
4. Form dough into a ball & wrap with plastic wrap – Chill in refrigerator for 45 minutes
5. Preheat oven to 375° F
6. Line cookie sheet pan with parchment paper
7. Unwrap dough and roll out between 2 sheets of Parchment paper (or Wax Paper) – 1/2″ thick
8. Using your favorite flower-shaped cookie cutter, cut out the cookie shapes and place onto prepared baking sheets (Space at least 2 inches apart).
9. Bake for 10 minutes (until edges are light golden)
10. Let cool on cookie sheet for 5-10 minutes, the remove carefully to a rack to cool completely
Chocolate Ganache
7 oz. Semi-Sweet or Dark Chocolate Chips
3/4 c. Heavy Cream
Directions:
1. Place chocolate Chips into a medium sized bowl
2. In small sauce pan, heat creamon medium-high to almost boiling (NOTE: Keep an eye on the cream! If the cream is allowed to come to full boil it will overflow!)
3. Pour cream over chocolate chips and wisk together till smooth.
4. Dip cookies half way, into ganache and place on wax paper, till the chocolate cools.
Hope you enjoy!!!