Who doesn't love Rocky Road ice cream?
November 11, 2010 :: Posted by - Sweet Flamingo Cake Co. :: Category -
Recipes to Share
Well, I being a HUGE fan thought, it's getting a little too chilly for ice cream, so why not whip up some warm muffins featuring my favorite flavor, Rocky Road! Hope you enjoy!
Rocky Road Muffins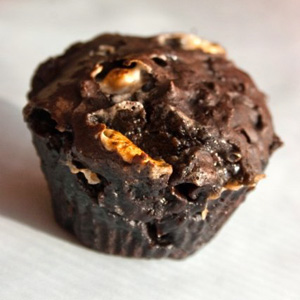 Ingredients:

5 T. Butter
2 c. All Purpose Flour
6 T. Cocoa Powder (Dark Chocolate recommended)
3 t. Baking Powder
3/8 c. Superfine Sugar (Caster Sugar)
3/4 c. Milk Chocolate Chips
1/4 c. Mini Marshmallows
1/2 c. Almonds (Rough chopped)
1 Large Egg (Beaten)
1.25 c. Milk

12 standard baking cups
Directions:
1. Preheat oven to 375° F
2. Line muffin pan with baking cups
3. Melt butter, set aside
4. Sift Flour, Cocoa Powder & Baking Powder into large bowl
5. Mix in Sugar, Chocolate Chips, Marshmallows & Almonds
6. In a separate bowl, whisk together cooled Butter, Egg & Milk
7. Carefully mix Butter mixture into the Flour mixture (batter will be stiff)
8. Divide batter equally between the 12 Baking Cups
9.  Bake for 20-25 minutes, cool in pan for 5 minutes, then remove & Enjoy!
Tags: Almond, Chocolate, Marshmallow, Muffin, Recipe, Rocky Road